The holidays have arrived!

It's time for all the food, love and giving you can take!
For many businesses, however, deadlines, stress and lower productivity come with the holiday season. Many projects are coming down to the wire at the same time employees are shifting their focus to everything the holiday season requires.
As business owners and leaders, this isn't something you can ignore. Here are a few tips to keep in mind this holiday season to have successful engagement and productivity.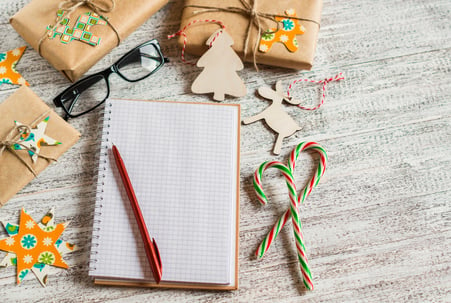 December is a short month for most businesses. Between all of the various holidays, most businesses are closed for several days or employees take PTO to celebrate. Even if you try to keep your company on a regular schedule, your B2B or B2C clients may be out of the office or difficult to find.
With this in mind, set doable goals through the holiday season that employees can reasonably work towards. If goals are attainable, your team is going to be more motivated to reach them and finish the year strong. Unattainable goals will decrease morale and employee productivity will undoubtedly fall short. Communicate with employees throughout the month and let them know how they are doing!
Keep in mind that everyone celebrates differently.
Sensitivity goes a long way through the holiday season. There are countless traditions, cultures and beliefs in this world. Keep in mind that not everyone celebrates the same way. Maybe this means you play White Elephant in the office rather than Secret Santa. Maybe you extend an extra bit of love and support to employees who have had a hard year. There is no right or wrong approach if you're being sensitive to employees' beliefs, thoughts, and feelings this holiday season.
Plan ahead.
If your organization requires a certain amount of employees to be at the office or on the phones, plan your holiday calendar well in advance. This will give employees ample time to make their own personal arrangements while ensuring your coverage is adequate your business is able to continue with minimized staff.
Atmosphere is everything!
When we're in the holiday season, work is the last thing we want to focus on at times. Recognize that everyone is guilty of this! There are things that can be done to encourage employees to engage with their work. Make the office a fun environment to be this holiday season. Encourage communication and mingling in the office to lighten the mood. Give your team the option to take the morning off to go get some holiday shopping done. Employees will be more focused on work when they come into the office knowing that they have one less thing to stress over.
Motivating employees through the holidays is hard, but it isn't impossible. The best way to keep employees motivated (not only through the holidays) year around is to have a personal rewards system in place.
Remember this holiday season that people matter. The holiday season is about being thankful, giving and supporting one another. Make sure you are allowing employees feel the joy this holiday season.