The idea of five love languages has been known to enhance communication and trust between partners in romantic relationships since the book, The Five Love Languages, written by Gary Chapman coined the idea in 1995. The premise of using this tool is that each person in a relationship has at least one primary way in which he or she receives love. In order for a person to feel loved, his or her partner must learn to "speak" the language of love that the person most accepts as signs of affection.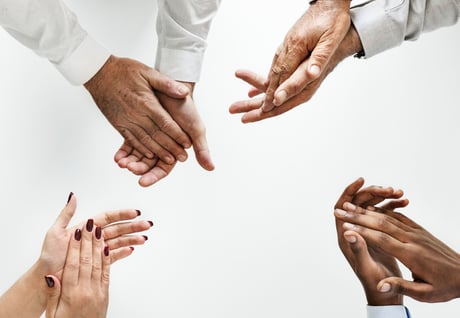 You can also apply the five love languages to relationships in the workplace, but we'll refer to them as the Five Languages of Appreciation in this setting. It is important to understand that one method of employee recognition isn't universally accepted for all employees. Employees require affirmation in many different ways and knowing their languages of appreciation can help your company keep employees motivated by offering the right type of encouragement as well as the rewards that they'll appreciate most.
The Five Languages of Appreciation
Words of Affirmation – Some employees appreciate verbal acknowledgment that their work is appreciated. A simple "good job" to the employee or publicly recognizing – perhaps during a meeting – a job well done will be received best by employees whose primary language of appreciation is through words of affirmation.



Acts of Service – Another way appreciation is accepted from coworkers or supervisors is though acts of service. Small gestures that show workers they are valued can go a long way. A few service-based acts: helping with a difficult project, assisting with technology problems, carrying office supplies and delivering lunch or coffee.



Receiving Gifts – Some employees value material objects as a sign of being rewarded for extraordinary performance at work. A employee engagement program where employees can redeem their efforts for products or experiences caters perfectly to these employees' desires.



Quality Time – Companies whose cultures are centered around teamwork and being visible to one another understand how face time is a symbol of appreciation and belongingness in the workplace. Aside from offering company outings like picnics and volunteer opportunities, some employees value one-on-one meetings and check-ins. If supervisors simply send "good job" emails, this won't resonate as well with an employee whose primary language of appreciation is quality time.



Physical Touch – Lastly, there are those who most recognize appreciation by way of physical touch. Ways to speak this type of person's appreciation language would be to give them a high five, handshake, fist bump or pat on the back when acknowledging him or her for a great job. Personal boundaries are important to keep in mind with this language of appreciation.
So how do you know which of the Five Languages of Appreciation you should be using to praise your employees for long-term motivation? It won't be a cut and dry answer at first. You should spend some time observing which employees respond best to which approaches. Also, it is important to observe the way they reach out to you. People often communicate in the way they would like to be communicated with.
How Can Energy 2 Engage Help You?

When an employee rewards program is implemented, employees are able to be rewarded with tangible and intangible rewards. When rewards are presented using the Five Languages of Appreciation, employees are motivated to stay with your company for years to come.

Rewarding employees with valuable incentives increases job satisfaction and reduces turnover rates, in turn saving your company money and positively impacting your bottom line.