The only thing worse than forgetting to buy your spouse a birthday present is buying the same tired gifts year after year!
The same goes for keeping your company's catalog employee incentive program. Having your employees select between the same rewards year after year can cause dissatisfaction within your organization.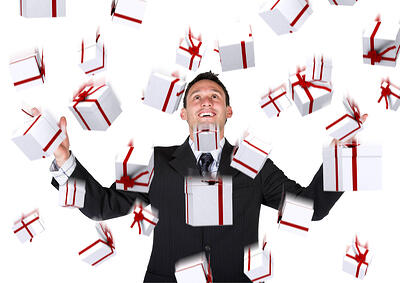 It's time to give your employees the freedom to select the rewards they truly want!
Five Reasons Your Company Needs an Online Employee Incentive Program
1. Everyone is not motivated by the same reward items
Energy 2 Engage's Direct-To-Retail Platform allows participants to shop at any retailer they want! Retailers have with the expertise of managing online orders, and represent best-in-class for product quality, customer service and shipping. Employees can select from an unlimited number of reward options and are not confined to the pages of a catalog.
2. Perceived reward value reflects on performance
We know that your employees and customers are savvy enough to determine the value of the rewards in your loyalty or incentive program even if your provider masks the value by pricing them in "points." An online program connects participants directly with the retailer to ensure prices are not marked up and participants have full access to discounts and rebates!
3. Constant communication of goals is necessary for achievement
Developing an ongoing communication plan that continues to encourage participation by highlighting the benefits of your program and keeping the program fresh and exciting for the target audience. Catalog programs lack this communication and have limited ability to be consistently updated.
4. Education about your company and goals breeds revenue!
With an online incentive program your company can create image and document libraries for training and handouts that can be accessible to all of your employees with the click of a button! Using quizzes will ensure your employees, sales teams, or channel partners are completely educated about your products and services and aligns their objectives with yours to ultimately increase revenue.
5. Measuring, tracking and analyzing behavior increases profit!
You can now measure your loyalty program's Return On Investment. Energy 2 Engage's Platform has reporting functionality to track your participants' behaviors and measure, in real time, the Return On Investment of your program. You can set up new programs, promotions and targeted communications within hours, not weeks or months, on your custom branded website. Both you and your participants can see the progress and gauge how close the goal is to being achieved.
Want to Start or Improve Your Loyalty Program? Energy 2 Engage Can Help!
The best part about an online employee engagement program is the ease of setup. Programs can be up and communicated to your organization within a few days!
The requirements to a successful loyalty program must unite Loyalty, Engagement, Alignment and Performance - and those elements are combined into a branded, hosted, and easily accessible online solution to provide you with measurable results.
We have built robust technology to provide our clients with the best loyalty and incentive programs for employee engagement or sales growth on the market.