Sales Incentive Programs are designed to connect your goals and strategies with the type of behavior that creates profitable mindshare and increased bottom line revenue.
Sales Incentives and Sales Compensation are similar, but different - and it's important to understand the difference.
While both types are crucial to a company's growth, a Sales Compensation Plan is the overall look at a sales rep's compensation - their base salary, the commission structure, bonuses, etc.
A Sales Incentive Program, however, is more flexible and fluid. Incentive plans can vary from month to month - from promotion to promotion - or even from goal to goal. They integrate useful tools, communication and allow participants to feel the benefits of non-cash rewards.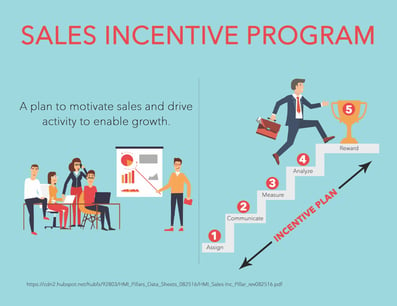 And, if you have a Sales Incentive Program with E2 - it's about instant gratification.
Whether your sales organization is comprised of direct or indirect sales professionals, make sure they are engaged, motivated and aligned with your goals and objectives. Not only will a sales incentive program have benefits for the participant, the program will also positively impact many facets of day-to-day business.
Benefits of a Sales Incentive Program:
Positive impact on your bottom line

Sustainable growth

Enhanced productivity

Constant flow of innovation

Increase retention rates

Formation of revenue drivers

Customer and partner satisfaction

Goal completion
To maximize all of the benefits that a program can provide, you must start building a strategy that will help goal alignment within your company. Energizing sales teams can be tiresome and complicated, but with a little bit of focus, your company can exceed expectations.
Timeless Trends that Keep Your Sales Team Engaged, Motivated & Happy:
More flexibility and autonomy in the program
Access to new learning and/or training opportunities
Ability to track progression
Unlimited choice of awards including products, services, events and travel
Customized solutions
Capability to take your program online